BRF and the communities we work with are hugely blessed by volunteers. These are people with a passion for serving God where they are, who generously give of their time, prayer and skills.
If you are interested in becoming a BRF volunteer or want to explore it further, please email jane.butcher@brf.org.uk.
'I was pleased to discover BRF had so many resources and initiatives we can use as we move forward. I hope to develop my BRF local church champion role to support the various organisations within our growing parish.'
Sue Burrows, BRF local church champion
Current volunteering opportunities
BRF networker role
BRF networkers are volunteers who promote and share the work of BRF, the charity within their local network. This could be a group of churches, a deanery, Diocese, Circuit or similar. The role is flexible to fit with a volunteers' availability and could be carried out in a variety of ways.
The role involves promoting BRF's work and ministries, helping the charity raise awareness of its funding needs, promoting the Bible reading notes and other resources, pointing people to training and courses and being able to assist in connecting people with one of BRF's ministries.
All information and ongoing support will be offered by the BRF church advocate. In return we offer a great team environment where all volunteers are valued with opportunities for those who would like to engage with the wide BRF volunteer team.
For more details contact jane.butcher@brf.org.uk. Looking for something in your local church, why not become a Local Church Champion…
BRF Local Church Champions
BRF Local Church Champions are volunteers who share the work of BRF and its ministries in their church. This could be done in a variety of ways, such as including news in the church's notice sheet and social media, displaying flyers and leaflets, or talking about BRF's various ministries with individuals.
By spending just a short time each week, each fortnight or even each month, you could help your church hear about opportunities and resources that could change lives. In return we offer a friendly welcome, ongoing support from the team leader, all the resources you need and a genuine appreciation of your contribution to our mission.
If you have a heart to share the work of BRF, have access to a computer and some time to volunteer, do get in touch with jane.butcher@brf.org.uk.
---
Meet our volunteers: Jennifer Richards
I was very excited when the opportunity to become a BRF local church champion came along as BRF has always attracted me as a growing, thriving and wide-reaching Christian charity.
As a church, we have supported BRF over the years in various ways.
We began a Messy Church, which quickly became a great success, attracting more than 100 people, both grandparents and babes-in-arms, families and single people.
But there is also much more that BRF offers for our church's ministry. As we seek to attract more families and young people, Parenting for Faith lets us engage with parents and equip them to have the confidence to help their children meet and know God.
As a local church champion, I look forward to being better equipped to make the excellent work of BRF more widely known within our church.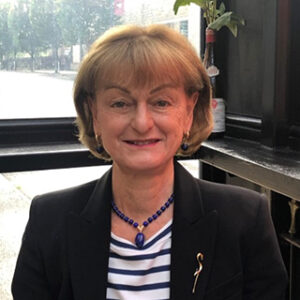 ---
Support Messy Churches
There are nearly 3,800 Messy Churches in the world, and around two thirds are in the UK. Some are run by paid staff in well-resourced churches. Many are set up by lone visionaries passionate to see renewal in dwindling congregations.
All need help from time to time – whether it's setting up a new Messy Church, supporting families with special needs, a sounding board or prayer for a tricky issue or training for leaders.
BRF's Messy Church team coordinates and supports nine groups of experienced volunteer practitioners so all Messy Churches – from the tiniest to the biggest, have someone to turn to for help and inspiration.
61% of Messy Church families wouldn't otherwise go to church.
81% of Messy Church leaders see evidence of lives changed.
Independent research by Church Army Research Unit