BRF and the communities we work with are hugely blessed by volunteers. These are people with a passion for serving God where they are, who generously give of their time, prayer and skills.
If you are interested in becoming a BRF volunteer or want to explore it further, please email jane.butcher@brf.org.uk.
'It is two years since I first started as a volunteer at my local care home. It brings me such personal satisfaction and is I believe the most effective work of Christian outreach in our local community I have ever done.'
Eileen, an Anna Chaplain
Current volunteering opportunities
BRF local church champions are volunteers who share the work of BRF and its ministries in their church. This could be done in a variety of ways, such as including news in the church's notice sheet and social media, displaying flyers and leaflets, or talking about BRF's various ministries with individuals.
By spending just a short time each week, each fortnight or even each month, you could help your church hear about opportunities and resources that could change lives. In return we offer a friendly welcome, ongoing support from the team leader, all the resources you need and a genuine appreciation of your contribution to our mission.
If you have a heart to share the work of BRF, have access to a computer and some time to volunteer, do get in touch with jane.butcher@brf.org.uk.
---
Meet our volunteers: Babs Lowe
Volunteering is such a wonderful thing to do, but to volunteer to serve God is simply the most amazing and humbling experience of my entire life!
What an honour and privilege it is to belong to the Anna Chaplaincy network, serving 'older people'. As Anna Chaplain across the churches in Barrow, I am accountable to an ecumenical steering group. I am blessed with a range of nine Anna Friends and many volunteers, participating in worship DVDs to 20 care homes, dementia tea services, Messy Vintage and partnerships with the MU, Hospital Chaplaincy and Dunelm Store. God has sown the seeds of many projects in what is a multi-faceted ministry. It's exciting trusting in him, but sometimes I am holding on to his coat-tails!
As I step into different things that God lays before me, I learn so much more about his unconditional love and grace for everyone, including me. I pray this short prayer before meeting someone new: 'Lord Jesus, use me to shine your overwhelming love on this, your child.'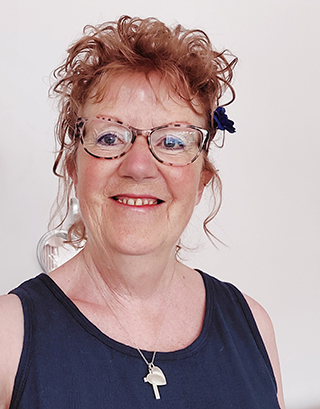 Babs Lowe is an Anna Chaplain, based in Barrow-in-Furness.
---
Support Messy Churches
There are nearly 3,800 Messy Churches in the world, and around two thirds are in the UK. Some are run by paid staff in well-resourced churches. Many are set up by lone visionaries passionate to see renewal in dwindling congregations.
All need help from time to time – whether it's setting up a new Messy Church, supporting families with special needs, a sounding board or prayer for a tricky issue or training for leaders.
BRF's Messy Church team coordinates and supports nine groups of experienced volunteer practitioners so all Messy Churches – from the tiniest to the biggest, have someone to turn to for help and inspiration.
61% of Messy Church families wouldn't otherwise go to church.
81% of Messy Church leaders see evidence of lives changed.
Independent research by Church Army Research Unit