An idea from The Barnabas Team.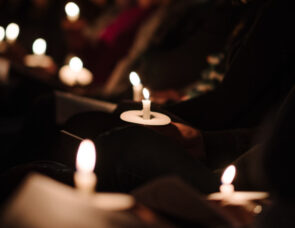 On your marks
The well-loved traditional nine lessons and carols service is a beautiful service and has a special place in many people's Christmas celebrations. The majestic sweep of Bible readings from the beginning of time to the birth of Jesus provides us with a rare opportunity to see the whole Bible story in one go. In addition, the familiar carols and those sung by the choir lead us gently into the miracle of Christmas Day. Using this pattern, what follows is a version of the nine lessons and carols that includes visual elements and uses Bible stories as retold in The Barnabas Children's Bible. The aim is to make the whole service more approachable for children and perhaps even for those less familiar with this type of service and indeed the big Christmas story.
Get set
You will need to collect together the visual aids for each lesson as suggested below. You may be able to prepare these in sessions with children prior to the service.
Also, you will need The Barnabas Children's Bible. You may decide too that the children and adults should keep an example of each of the visual aids used throughout the nine lessons.
Go!
Welcome to our service of nine object lessons and carols for Christmas.
Opening carol: 'Good news, good news to you we bring' (Make Way Music)
LESSON 1 – In the beginning
Stories 2 and 3 from The Barnabas Children's Bible.
Object lesson: You will need some green spring leaves as well as some brown/orange autumn leaves. You can buy artificial leaves in a craft shop or you could make them from coloured paper beforehand. As you read about the perfect garden (story 2), scatter and share around the green spring leaves. Then, as you hear about how things went wrong (story 3), scatter and share around the fallen autumn leaves, as sin enters our world.
Carol: 'The holly and the ivy' (leaving out verse 2) – it would be useful to have some real holly and berries to show as you sing this.
LESSON 2 – The promise
Story 13 from The Barnabas Children's Bible – up to 'Abram looked, and he believed what God had told him.'
Object lesson: Have a bowl of sand available for some to run their fingers through as a picture of God's promise to Abraham of a great family. Also, scatter stars on to a large piece of black felt, as God promises Abraham a family that will be beyond counting.
Carol: 'O little town of Bethlehem' (verses 1, 2 and 4) – note particularly the reference to the stars.
LESSON 3 – The clues
Story 68 from The Barnabas Children's Bible.
Object lesson: God promised through Moses that one day a prophet would come, one greater than Moses. Also, in this strange story, there is the clue that this prophet would bring healing to the world by being lifted up on a pole. Hand out some kebab sticks (with their ends blunted) and pieces of chenille wire (pipe cleaner), which can be wrapped around the stick like a snake.
Carol/song: 'For God so loved the world' by John Hardwick
LESSON 4 – The royal line
Story 134 from The Barnabas Children's Bible.
Object lesson: David was promised that one day a king would come from his family line – a king who would reign for ever. Cut out small crown outlines from gold card, which can then be twisted into a circle and taped together.
Carol: 'Once in Royal David's City' (verses 1, 2, 5 and 6)
LESSON 5 – The prophets
Story 195 from The Barnabas Children's Bible.
Object lesson: The prophets were like voices crying out, giving the people warnings and hope in difficult and dark times. Distribute instruments that make a big sound to draw attention to some special thing that is happening. Include, if possible, a trumpet and cymbals, as their warning notes can be used to punctuate the story itself. The prophets' voices were like these sounds, waking people up to what God was about to do.
Carol: 'Let me tell you about a baby' (Kids' Source 225)
LESSON 6 – Getting ready
Story 244 from The Barnabas Children's Bible.
Object lesson: Teach the British Sign Language for some of the keywords in this story – for example, baby, the name John, messenger and so on. Zechariah couldn't speak for nine months, but he knew deep down (without words) who John was going to be and how he would be someone who would prepare the way for Jesus.
At this point in the service include prayers for families, friends and for those for whom Christmas will be a difficult time. Have some gentle Christmas instrumental music in the background.
LESSON 7 – The message
Story 242 from The Barnabas Children's Bible.
Object lesson: Use feathers or maybe bubbles to capture the mysterious visit of Gabriel to Mary. Watch the bubbles drift and burst, or the feathers blow around in the air. Something deeply mysterious was happening and Mary was now to become the mother of God!
At this point in the service include a short talk that draws on the whole Bible story leading up to Christmas.
What is the message of Christmas for us?
(There is an idea for a presentation using TV programmes on the Barnabas website Have I got good news for you.)
LESSON 8 – The birth
Stories 246 and 247 from The Barnabas Children's Bible.
Object lesson: Give out handfuls of hay from a hay bale and let everyone feel and smell it as you hear of the birth of Jesus in a stable and laid in a cattle feeding trough.
Carol: 'Away in a manger'.
LESSON 9 – The first visitors
Story 248 from The Barnabas Children's Bible.
Object lesson: You will need a thimble, a large bowl and a jug of water. Pour the water from the jug into the bowl to show how much there is. Now ask if all that water could be put inside a thimble. It's impossible! What if there was more water – would that all fit inside the thimble? Of course not! What about all the water from the Niagara Falls – would that work? No, it would need a miracle!
But this is just exactly what happened with the birth of Christ at Christmas. God, who made the universe, decided to become small enough to fit into the size of a human baby. God in Christ doing this for us out of love is the mystery and the meaning of Christmas.
Carol: 'The candle song' (Make Way Music).
Final prayer and blessing, followed by Carol: 'O come all ye faithful'.