Peter Clarke and members of his church took part in the Holy Habits: Following Jesus online Lent course, and he has preached on the course themes. He describes how he got involved in the course and whether he would recommend it…
30 May 2021
Holy Habits: back to its roots
I am a minister in the Methodist Church, previously in active circuit work for 34 years. I retired from active ministry – though never from ministry – four years ago and came back to live in Kinver, where I'd been minister from 1990 to 2006. It's a large village of about 6,000 people, with lots of amenities, on the very southern tip of Staffordshire.
Andrew Roberts came to the area to work in this circuit just as I was becoming its superintendent minister in 1995, so we've been colleagues since then and have kept in touch ever since, as a friend but also because of his work with Fresh Expressions.
I had left Kinver by the time Andrew was developing Holy Habits, but as time went on I was distantly aware of what he was doing. By the time I came back to village, Holy Habits had really taken shape.
Keen to be involved
Before the pandemic, we had a regular series of short Bible study courses, held in church on Tuesday evenings, and they were very well received. They drew in people not just from the Methodist church but also from the two parish churches in Kinver and the neighbouring village. Around 25–30 people came to those studies and really appreciated them, but when lockdown started in March 2020, obviously that all had to stop.
As soon as we knew about the Holy Habits online group, Sharing Resources, taking place over last summer, a number of us were keen to be involved, and we really appreciated the opportunity to share in something in a very different way to the regular Bible study held in church. It was a helpful way to explore some of the issues – particularly the practical sharing and caring that the churches are called to be engaged in. Then, having shared in that group in the early days of lockdown, when we heard that Andrew was writing an online Lent course, we were keen to follow it.
'We really appreciated the opportunity to share in something in a very different way to the regular Bible study held in church.'
Something bigger and more connected
The online group is no substitute for a group meeting in the same building and sharing and interacting around a table, but nonetheless it was really good to see and hear Andrew. Most of us already knew him, but he's always very engaging in his presentation and his themes are always well-illustrated.
Sharing in the comments that came in via the chat was really useful and interesting – again, not the same as sharing face-to-face around a table, but it was still valuable and worthwhile for that brief half-hour to feel as if you were part of something bigger and more connected.
I don't think the online group last summer nor the online Lent group has attracted anyone who wasn't already within the church circle, but we have recently started broadcasting some of our activities on YouTube, so that might bring new people in. It's important for us to be out there – people can see what we're about online and get a flavour of who we are, what we're saying and what we're offering, before they take that scary walk up the steps and into church. And for those who for various health and mobility reasons can no longer get to church, online services and Bible study groups will be really useful – so we're committed to maintaining those opportunities.
'It was valuable and worthwhile for that brief half hour to feel as if you were part of something bigger.'
I'm a storyteller and normally I volunteer at the Black Country Museum, where I tell the story of the Chapel and its impact on the life of Victorian people at the turn of the century. But I also volunteer here in Kinver at the famous National Trust Rock Houses (pictured below), where I tell the story of those ordinary working people who lived in these sandstone caves and turned them into homes.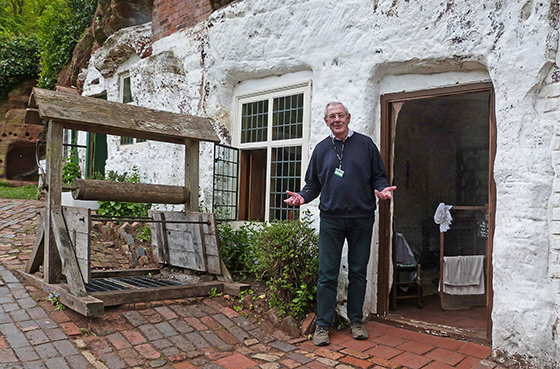 I've really missed that during lockdown, so to be able to carry on preaching has been great for me. And using Holy Habits is a real joy, however strange it feels to preach to a church with only five people in it.
For preaching, Holy Habits is godly – it's rooted and grounded in the life of Christ and the activity of the Spirit. And it's amazingly practical. That is so important at the moment, because so many people are really struggling with the isolation and lack of community. To be able to preach on those themes is a real gift.
During the period up to Pentecost we found ourselves in a time of continuing caution and, though easing, ongoing restrictions. The first Easter witnesses were also constrained, but their fellowship together was vital in their waiting for the outpouring of the Holy Spirit. So, we have been sharing in worship that focused on the Holy Habit of Fellowship and the Methodist Way of Life theme of learning and caring together. We hope it will prove to have been a timely series, not only helping us to remember who we are and what we are called to be and do as we slowly emerge from the restrictions and sorrows of the past months, but also to be ready as a church to respond to the more outward-looking opportunities for service and evangelism that greater freedoms will allow.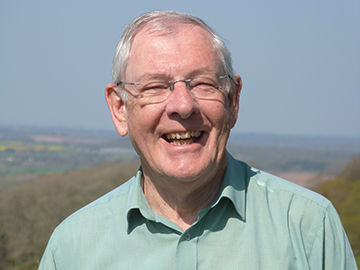 Peter Clarke is a minister in the Methodist Church and a long-standing friend and former colleague of Holy Habits pioneer Andrew Roberts.
---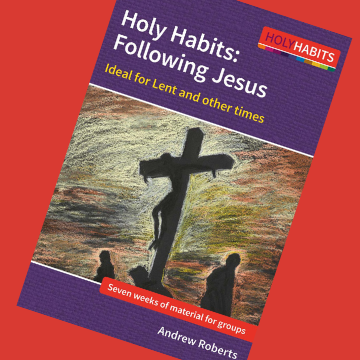 Holy Habits: Following Jesus
This seven-session course following Jesus to the cross is valuable at any time of year, but especially in the run up to Easter, and is ideal for groups. Part of the Holy Habits series, it explores how Jesus himself demonstrated the practices that distinguished the early church (as described in Acts 2:42–47).
---

Holy Habits is an adventure in Christian discipleship based upon Luke's picture of the early church in Acts 2:42-47. It explores and encourages the practice of ten disciplines, or holy habits: biblical teaching, fellowship, breaking bread, prayer, sharing resources, serving, eating together, gladness and generosity, worship and making more disciples.