BRF depends on people getting involved in our work, by volunteering, by praying, by spreading the word, and by giving through donations and legacies. In the first of a new series of articles about people who have got involved, Anna Chaplain Mary Priestley explains why she finds her role so rewarding…
1 August 2021
Commissioned, then locked down – a year in the life of an Anna Chaplain
At Candlemas 2020 I was commissioned as an Anna Chaplain within the Diocese of Newcastle. Then, in my next breath, it was lockdown! Where do I begin? What do I do? These were the challenges ahead.
The benefice has more than 60 over-70-year- olds, and all of them are important, so this was no small task. Fortunately for me I had been encouraged to undertake Anna Chaplaincy training by my dedicated vicar, Alyson Lamb, and senior reader, Janice Robinson. Janice is also an Anna Chaplain, a hospital chaplain and deanery lay chair: our team was formed!
My skills come from my background in home economics and as social services tutor, along with many years of church work and, as my faith journey deepened, prayer ministry and pastoral care.
As we set off into the unknowns of lockdown, it was important for me to take regular time for prayer, and often the words of the hymn 'Take it to the Lord in prayer' was my asking. For me, this has been a time of listening and trusting. I felt truly blessed and certainly I was guided throughout.
'The words of the hymn "Take it to the Lord in prayer" was my asking.'
Communication is a priority
Communication is a priority with our more senior friends, to allow each person to feel acknowledged and recognised individually. We kept in touch with people with phone calls full of chat, family news, requests for help, interests, prayers (thank you to BRF for such appropriate prayers weekly), poems, hymn singing, reading psalms and so on.
Additionally the number for the Archbishop of Canterbury's 24-hour hymn and prayer line was given out, along with (for those who could cope with computers) links to our online Sunday worship, Zoom coffee mornings and home groups.
For those without computers, we provided a print-out of the weekly Benefice e-news. On the whole, our more elderly friends were always upbeat and coped well: accepting, resourceful and positive – a mark of their generation. I kept dates and brief notes of each call so I could pick up the conversation next time. To date, the number of calls I have logged is not far off 1,000.
'To date, the number of calls I have logged is not far off 1,000.'
Knitted poppies
Alongside the day-to-day activities, we followed the seasons and the church year with special activities. At Harvest, for example, the vicarage apple tree produced a bumper crop, so Yours Truly (thanks to my apple-picking husband) made umpteen crumbles, then labelled, chilled and distributed them – remembering gloves, hand gel, a face mask and social distancing, of course. Our older people were thrilled: nothing quite beats a crumble. It was just sad we couldn't say yes to the cups of tea that were offered. (The bishop also enjoyed her crumble!)
As Remembrance Sunday approached, we needed poppies. Why not knitted poppies? So the local tom-tom system got going. Patterns, knitting needles and wool were found and the big knit began, with lots of excited phone calls to chat about progress.
The effect was spectacular and the villagers were overwhelmed, so much so that the gates have become a community focus for other occasions: Advent, Christmas and Easter.
'The effect of the knitted poppies display was spectacular, and the church gates have become a community focus for Advent, Christmas and Easter.'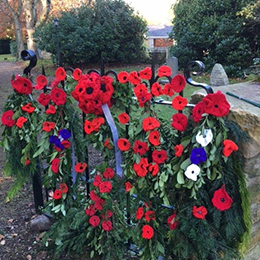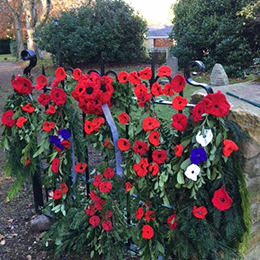 For Advent, we placed floodlit Christmas trees at the gates of each church with pebbles alongside and an invitation to place a prayer in the life-size cribs. Whether glistening in the early morning frost or illuminating the evening winter sunshine, it was truly a beautiful scene. Poignantly all the pebbles were used by those who came along on their daily walks.
The joy of giving and receiving
As winter gave way to spring, we delivered posies of spring flowers and a prayer card to each doorstep for Mothering Sunday, a sensitive time for some.
And then it was Easter. A small, yet significant palm cross was given to all, with an Easter egg tucked in and an Easter card with prayers. Symbolically, purple-draped crosses were placed at the church gates, and on Easter Sunday these were adorned with flowers for all to see.
Hope for the future
Pentecost was the beginning of the end of lockdown, and as we could meet now in the churches we gave sunflower seeds to plant, hopefully to bloom and flower to display at Harvest Festival. We have also planted a rose tree and soon an oak to create a garden founded on hope. The prayer pebbles will form a cairn and the ribbons will be tucked into the roots. Respecting the insecurities and confusion of some remains of great importance.
The process of coming out of lockdown is slowly happening. Understanding and compassion run high as confidence is regained. Keeping contact with friendships forged in lockdown is a priority. In early autumn we'll begin to meet for a service with tea and time to talk, and we'll rekindle our participation with the residential home and the dementia group and possibly hearing impaired.
'I have been in a totally absorbing, all-embracing, experience with people and I thank God for choosing me for this role.'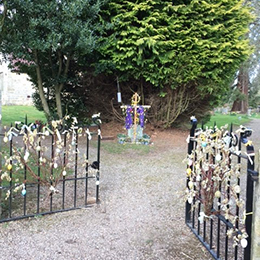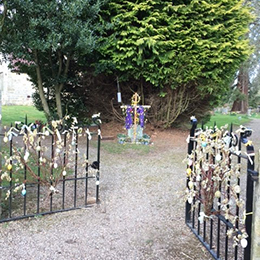 For my part, I have been in a totally absorbing, all-embracing, experience with people and I thank God for choosing me for this role. My skills and talents have been used to the full as well as new challenges. The empathy with my team has been a joy. Hard work, careful planning, adaptability, all so rewarding along with great fun, much laughter and a love of God's people.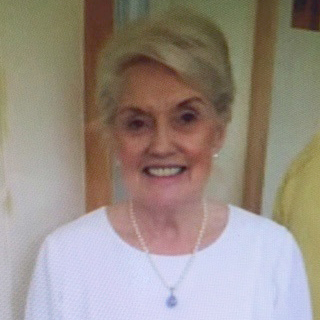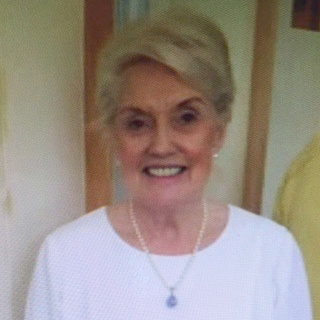 Mary Priestley is an Anna Chaplain in the Benefice of Mitford and Hebron in Northumberland.
---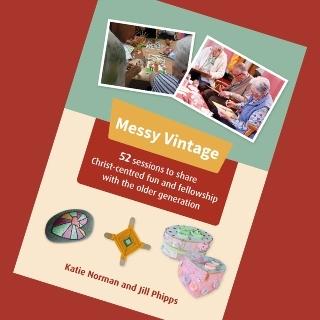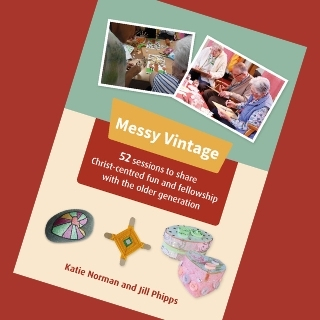 Messy Vintage is Christ-centred and creative, full of celebration and hospitality and open to all, aspiring to include people of all ages while specifically reaching out to older people. Whether you're just getting started with Messy Vintage or looking for new session material, this book offers practical advice and resources to help you reach out to the older people in your community.