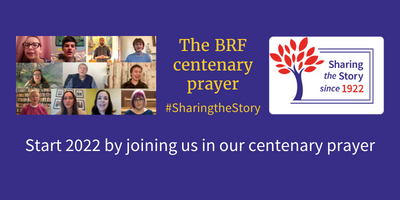 2022 is BRF's centenary year. So to give thanks for 100 years of God's provision and guidance, we asked our volunteer prayer advocate, and BRF author Martyn Payne, to write a special centenary prayer.
Start 2022 by joining us in our new centenary prayer
And to start this special year, year we're inviting you to join with members of the BRF community from around the world in our centenary prayer, through this one minute video. Perhaps you'll spot some familiar faces!
Pray with us throughout the year.
You can also join us in using a line or phrase from the prayer as a focus for each page of the new January to April edition of our Prayer Diary.