We are excited that, at the beginning of our centenary year, the long-running BBC programme Songs of Praise is featuring our work. Entitled 'The power of the Bible', the programme airs today (23 January) and includes interviews with Richard Fisher, Debbie Thrower and Amy Boucher Pye. In this article, Richard talks about how a chance conversation led to the Songs of Praise production and how the Bible has made a difference to his own life…
23 January 2022
Just chance?
When BRF celebrated its silver jubilee in 1947, a souvenir brochure was produced in which Leslie Mannering, BRF's founder, shared the story so far. His account began, 'It was a chance conversation – or was it just chance?' He went on to recount how a conversation with one of the staff of St Matthew's, Brixton, started the idea which led to what became BRF.
Well, it was a chance conversation – or was it just chance? Back in March 2021 I was talking with a former BRF colleague, Justine, about our plans for BRF's centenary. I mentioned in passing that we were thinking about approaching Songs of Praise to see if they would be interested in BRF for a programme during 2022. Her immediate comment was, 'I could ask one of the producers if you like, as Songs of Praise are filming with us next week.'
'It was a chance conversation – or was it just chance?'
It turned out that Justine was liaising with the Songs of Praise team about a programme to mark the first anniversary of the pandemic, in which Professor Andrew Pollard, one of the Covid vaccine pioneers, was being interviewed. Long story short – Justine provided the introduction, and we were thrilled when Songs of Praise confirmed in September that they'd like to include us in a programme about the power of the Bible to change lives.
This programme will be broadcast at 1.15 pm today (Sunday 23 January 2022). For us, it's a great way to start our centenary year.
The fundamentals of faith
The Bible, and more specifically helping people of all ages to read and engage with it, has always been core to BRF, and this has underpinned our work throughout the past century. Leslie Mannering described Bible reading, along with prayer and communion, as the 'fundamentals of our faith'.
Revd Mannering recognised, however, that most people need help to read and understand their Bible. So he set out, with the first monthly leaflet of readings and reflections in January 1922, to provide something that would encourage a daily encounter with the Bible text. The notes would emphasise the Bible's spiritual message and 'would also help people to read it with truer understanding'.
'The Bible has always been core to BRF.'
For many hundreds of thousands of people over the years that have followed, this daily encounter, with the help of BRF's Bible reading notes, has become the habit of a lifetime.
This Songs of Praise episode is not about BRF per se. Rather it focuses on the Bible itself and how it changes lives. We're delighted at the way the programme has been shaped, as the features it includes fit so well with our work today. For example, how the Bible inspires children and families through Messy Church, how the Bible inspires an older generation through Anna Chaplaincy, and how the Bible impacts individual lives. It was a real pleasure to work with the team at Songs of Praise and we're very grateful for the opportunity to do this.
Our challenge for a new century
One hundred years after Leslie Mannering shared the original vision for BRF, people still need help with reading and engaging with the Bible. In our increasingly secular society, the need is arguably greater than ever. For many today the Bible is and remains a closed book, one that they have never thought to look at for themselves. Regrettably many Christians themselves hardly read their Bibles. And yet there has never been a greater range and variety of Bible editions, formats, reading plans, digital and audio versions to choose from!
Our challenge is to find fresh and creative ways to inspire people of all ages to explore and engage with the written word (in whatever format that might be), and so encounter the Living Word, Jesus Christ. That's what we're doing in different ways across all of our BRF ministries today, and will continue to do.
'In our increasingly secular society, the need to help people engage with the Bible is greater than ever.'
Over the years I've been asked about verses or passages of the Bible that are particularly significant to me. There are many! One that has a special resonance is Jeremiah 29:11:
'For I know the plans I have for you, declares the Lord, plans to prosper you and not to harm you, plans to give you hope and a future.'
Back in 1988, I thought my own plans for the future were all mapped out. I was approaching the end of university when suddenly everything seemed to fall apart. I was admitted to hospital for tests, but the doctors couldn't find anything medically wrong with me. The experience knocked me badly and destroyed my confidence.
As I was recuperating at the home of friends, facing what seemed now to be a very uncertain future, with so much having been stripped away, I read these words from the prophet Jeremiah. Even now, all these years later, I remember that moment so clearly. It was as if God spoke directly to me from the pages of my Bible. The sense of reassurance, comfort and hope I received that day was very powerful. There have been many ups and downs along the way since then, and I have returned to this verse many times.
'It was as if God spoke directly to me from the pages of my Bible.'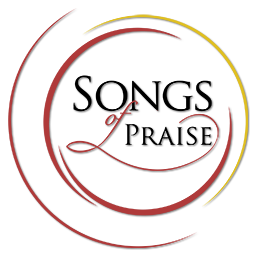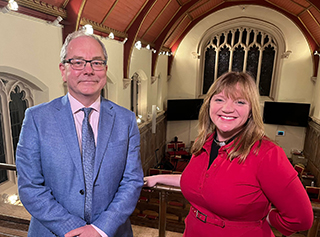 In celebration of our centenary this year, BRF will be featured on BBC One's Songs of Praise on Sunday 23 January. Chief executive Richard Fisher (pictured with presenter Revd Kate Bottley) shares the history of BRF, and author Amy Boucher Pye speaks with someone in New Zealand whose life was changed by their Bible reading notes. Also featured is Debbie Thrower as she speaks about BRF's Anna Chaplaincy ministry, and Gemma Hunt visits a Messy Church in Dulwich.
---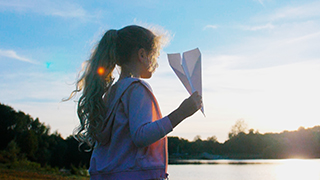 Sharing the story
Watch this short video about the work of BRF as we celebrate our centenary with thanksgiving.
---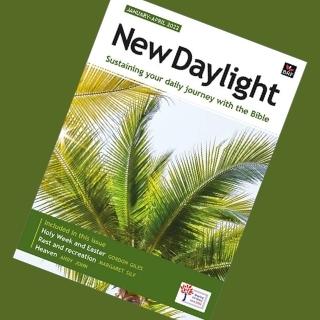 New Daylight giveaway
As part of our centenary celebrations, we're offering a limited number of free copies of the January–April 2022 issue of New Daylight.
The offer is while stock last, so to claim your copy, click the button below, add the book to your basket and use the discount code NDSOP22 at checkout.