How can we make prayer more enjoyable and inclusive, so that we want to pray more and others want to join in? Jane Leadbetter of BRF's Messy Church leadership team shares some great ideas that anyone can use to inspire people in their families, churches and communities to get praying.
And pray in the Spirit on all occasions with all kinds of prayers and requests… be alert and always keep on praying for all the Lord's people.

Ephesians 6:18
Because prayer is for everyone!
'Hands together, eyes closed. Let us pray.' Nobody ever taught me how to pray. As a young child at Sunday School, I remember the superintendent getting out a special book from the Sunday School cupboard, with a lock and key, asking us to be quiet, and then reading a prayer from a page. We said 'Amen' at the end, without any explanation why. Then the superintendent put the book back in the cupboard.
This event happened each Sunday. We were never invited to touch or read the prayer book ourselves. I believed, then, that only chosen adults could pray, that they read words from a special book and that when I became an adult, I may be able to do the same.
I suppose a pattern was being formed in some way. I was hearing prayer each Sunday from adults. Sometimes it was in the church hall with other children. Sometimes it was in church. But, as I became an adult myself, I knew that I wanted to pray every day, not just on Sunday. And I wanted to say the words myself.
My childhood pattern had shown me that prayers were being said to God, chatted to God, shared with God and sometimes shouted to God! How could this be developed into a relationship with God when I talked to him myself?
It's a journey that Messy Church leaders around the world today are passionately and imaginatively engaged in helping people make.
Connecting creatively with God and each other
Because of the Covid-19 pandemic, families in 2020 are experiencing more enforced time together. Messy Church has been inviting them to take this opportunity to bring all generations together, to connect with God through creative ways of prayer – on any day and at any time.
Whether indoors or outdoors, these simple ideas are easy for anyone to use – in families, among friends, in church groups or with the local community.
Messy Church in a bag
This brilliant resource has been used by small rural and large urban Messy Churches alike, often including further resource ideas from the Messy Church website.
The idea was first created by Carnon Valley Messy Church in Truro, Cornwall. The bags are carefully and safely resourced by a small team of people. They are 'Covid-19 rested' for 72 hours minimum, then collected from a safe place or delivered to homes. Inside are all-age resources and carefully selected items to help families to worship and pray at home together. Sometimes everyone gathers online and opens the bags together as they explore the Bible theme and enjoy the activities, prayers and games from their sofa or dining room.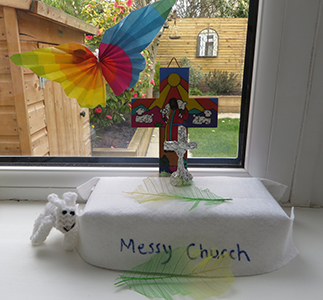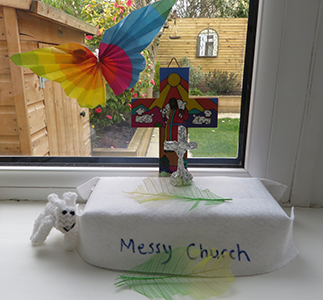 Families can find prayers to share at mealtimes or at times when they are scared, struggling or worried. There are ideas for things to hold and focus on in prayer, to blow in the air or to squeeze and squash.
Some families have created a prayer windowsill or other space in the home where objects chosen to help them worship and focus on prayer are lovingly displayed.
Prayer ideas for the community
Hospitality and pastoral care are key Messy Church values. And the pandemic isn't stopping us! It may now mean delivering Messy Church in a Bag or offering help to the community with food and recipes, shopping and gardening. Prayer tags are attached to everything, whether a food parcel, hand-knitted rainbow or Get Well Soon card.
Prayer ideas for outdoors
The longer the pandemic continues, the more creative the prayer ideas seem to become!
Messy Churches are creating outdoor prayer trails. These invite families to explore their community and find markers where they can pray for the specific needs of the street, row of shops, school or church. Outdoor gatherings may be restricted, but families can pray together as they exercise, ride their bikes or walk the dog.
Prayer pebbles have been popular for years, but in 2020 they have increased people's sense of belonging to church and community. Families have been building prayer pebble structures and creations, inviting others to join in. We have seen prayer pebble paths, snakes, towers and lots more structures in many communities. How amazing to walk by so many prayers written on pebbles in these spaces!
Churches have invited the community to tie prayers on ribbons to their railings and communities have watched the numbers of ribbons growing as the pandemic has continued for so long.
Many families have taken up gardening together and are growing vegetables and fruit. Some Messy Churches have created prayer garden ideas to build at home. Colour-themed planting, home-made bug hotels, bee baths and bird feeders have greatly benefited the local wildlife. Pebbles and labels serve as reminders to pray for sick family and friends, to thank God for his creation and love. Plant cuttings are being lovingly swapped and shared around the community with prayer tags and labels attached. Small pots of kitchen herbs with prayer tags have become a popular gift for all ages as families spend more time cooking together.
Prayer in the everyday
On my first ever Alpha course, a leader asked us what was the first thing we did when returning from a holiday? We responded with 'Unpack the suitcases' and 'Check the pile of post'. We were reminded to thank God for a safe journey back home.
In the same way, my prayer journey, from being a small child to a grandparent, has grown to be part of the everyday – with family and friends, with teams, online, with crafting objects, with activities, with living plants, with wildlife and pets, art and poetry, mud and bubbles…
Thank you, God, for hearing our prayers, our chat and our mumblings, wherever we are, whatever we are doing and whatever time of the day.
I wonder if that prayer book is still locked up in a cupboard somewhere.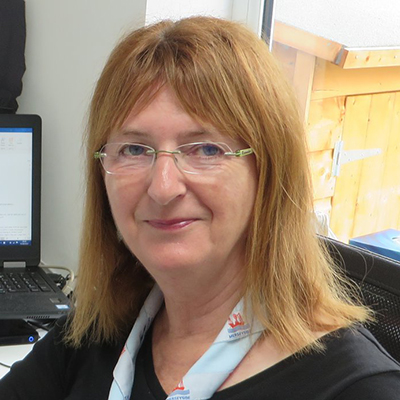 As well as partnering with Lucy Moore to lead Messy Church nationally and internationally, Jane Leadbetter is a BRF author, grandmother, assistant county commissioner to the Beaver Scouts in Merseyside and local leader of a Beaver group, Messy Church and Who Let the Dads Out? group. In previous lives she was a former primary school teacher and children's work adviser in the Diocese of Liverpool. Jane is passionate about all-age worship and community and church connections.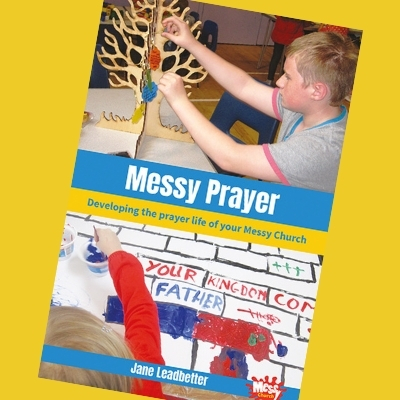 Messy Prayer
You can discover more ideas for prayer in Jane's book, written for Messy Churches and relevant in other settings too.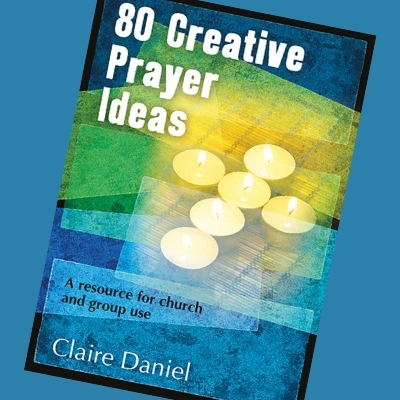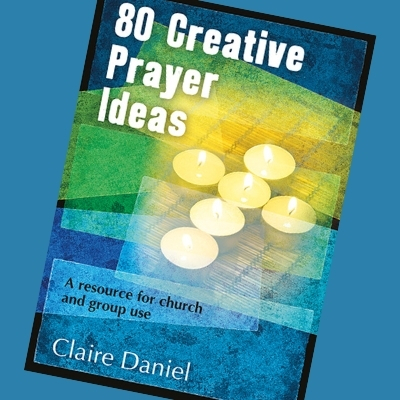 80 Creative Prayer Ideas
Prayer is a vital part of the Christian life but people often struggle with actually getting on and doing it. This book offers 80 imaginative and creative ideas for setting up 'prayer stations', practical ways of praying that involve the senses – touching, tasting, smelling, seeing, and hearing, rather than simply reflecting, as we bring our hopes, fears, dreams and doubts to God.