In this week's article Mark Bradford, author of The Space Between: The disruptive seasons we want to hide from, and why we need them, shares his insights into this season of 'liminality' from which we are starting to emerge…
25 April 2021
Betwixt and between
I was walking around Yorkshire Sculpture Park on my day off one Friday morning in 2016 when I came across an artist's plaque that mentioned a word I was only vaguely familiar with. The word was 'liminality'. I'd heard that word a few times before, but I couldn't be entirely confident of its meaning.
'Liminality', as I later learned, refers to the threshold, the in-between. For the artist, they were exploring the space between the surface and what lies beneath; between life and death; between the real and the unreal. As a pastor, however, my mind began to ponder the word in regard to the life of faith – and specifically those moments in our journey when we are in neither one place nor another, neither here nor there; we are betwixt and between.
Seasons of certainty are surprisingly rare
Although we might sometimes wish that the Christian life is one that moves 'from victory unto victory', the reality is that this is seldom the case. As much as we may wish for seasons of certainty, in which the ground beneath our feet is firm and unmoving, the truth is that such times are surprisingly rare. More often than not, we find ourselves living through seasons of transition, disruption, even crisis. In these times, an old reality has come to an end, yet a new pattern has not yet presented itself and we find ourselves living in the void in the middle – 'the space between'.
Any number of situations might trigger 'the space between' – circumstances such as the loss of a loved one, moving home or a hope that turns to disappointment. Even exciting moments of life – like a new job or a new baby – can bring endings in their wake and draw uncertainties into the mix.
Usually, we process these moments as individuals or in smaller units of family, friendship and network. What has been extraordinary over the past 13 months has been our global living through a 'space between' together.
For the past 13 months, we've been living through a 'space between' together, globally.
Living well through Covid and the restrictions of various lockdowns has been an unprecedented challenge for all of us. Old certainties have vanished, yet new securities have not been forthcoming. Everything 'in-between' feels fluid and uncertain, volatile and ambiguous. And just when we think we know where we are, the roadmap changes again, and we are plunged back into disappointment and potential despair.
A unique opportunity
I'd intended to write The Space Between years ago, though the busyness of work and life meant it always felt like a task too big to complete. Yet, as it became clear last April that lockdown wasn't going away quickly, I felt that I had a unique opportunity to write a book that seemed to tap into this strange cultural moment that we were all living through.
I began to notice ways in which people of faith around me were seeking to frame the intangible: this was a time of interminable 'waiting' for everyone; it was an 'exilic' experience; we found ourselves in the 'wilderness'; Covid was like a 'storm', unleashing its worst upon us; it was a 'pit' into which we had sunk. It just so happened that these were the very metaphors I'd intended to structure the book around. I noticed afresh that when we can't make sense of things, we reach inevitably to the power of metaphor for verbal lenses through which we can gain fresh perspectives.
I had a unique opportunity to write a book that seemed to tap into this strange cultural moment.
The power of metaphor
In the preface to the 1982 edition of Capitalism and Freedom, Milton Friedman observed:
Only a crisis – actual or perceived – produces real change. When that crisis occurs, the actions that are taken depend on the ideas that are lying around.
The case I've sought to make in the book is that in the Christian tradition, there is a vast store of treasures lying around that can help us to live through crisis, disruption or transition. We make sense of the world through story, and so there are stories from the Old and New Testaments, from the life of Jesus and from the lives of saints – both historical and contemporary.
The Christian tradition has a vast store of treasures to help us live through crisis.
We embody all to which these stories point in the rhythms of the church year and the routines of spiritual practices, or disciplines. We wrestle with the questions that lie deep in our souls through engagement with the Psalms – not least those psalms of disorientation (lament or complaint). And, ultimately, we find the cross and resurrection of Jesus Christ to be the focal point of our search for meaning and the place of our truest hope.
A wonderful, painful gift
Times of transition, disruption and crisis inevitably contain great pain within them. Yet, they also offer us a wonderful gift. Elizabeth O'Connor, one of the founders of the Church of the Saviour in Washington DC, has said:
Our chance to be healed comes when the waters of our life are disturbed.
To similar effect, Richard Rohr observes:
Nothing good or creative emerges from business as usual. This is why much of the work of God is to get people into liminal space, and to keep them there long enough so they can learn something essential. It is the ultimate teachable space… maybe the only one.
Ours is to work with the grace of God that is available to us, perhaps uniquely, in these seasons, and to be transformed in and through the disruption. The Space Between seeks to be something of a guide to help us along the way in this task.
As we continue to live in this pandemic world of ours, as well as in all the other 'spaces between' that make up the location of our lives as individuals, my prayer is that strength may be found for these seasons in life when it so often fails, and that hope might be glimpsed of God strangely at work, even when he can seem to be so very far away.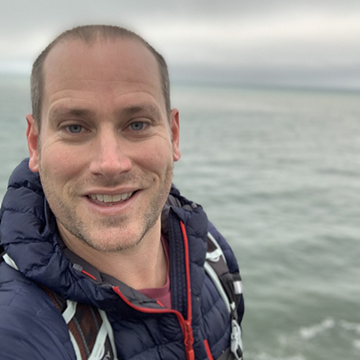 Mark Bradford is the vicar of St Cuthbert's Fulwood in Preston. Previously he taught history and politics and had worked for the Oasis Trust in Leeds training and discipling 18–25-year-olds. He is married with three children. He is on Twitter @mark_bradford and on Instagram @mark.bradford.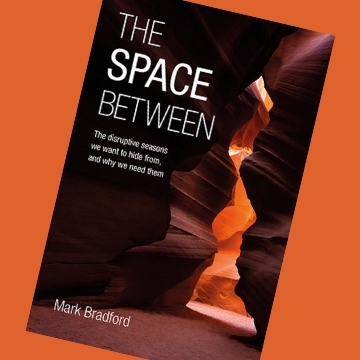 Transition times can be times of great disorientation. Yet, for good or for ill, they are also the most transformative. In The Space Between, Mark Bradford provides the reader with a biblical and theological understanding of such seasons of life.
---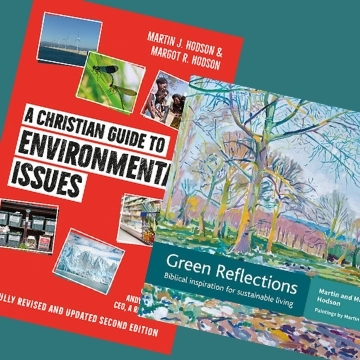 Coinciding with last week's Earth Day and President Biden's international summit on the environment, we have just published two new environmental titles by Martin and Margot Hodson.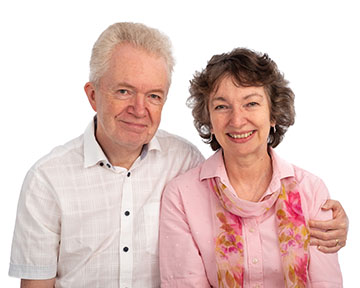 Dr Martin Hodson is a plant scientist and environmental biologist, and operations director for The John Ray Initiative (JRI). Revd Margot Hodson is JRI's director of theology and education and a vicar in Oxfordshire.