Bring the Easter story to life in all-age services, children's groups, older people's groups, home and school with over 80 creative and inspirational free Easter activities and ideas and affordable resources!
Bring Easter to life with free, creative activities
These free activities designed by professional educators and children's and families workers have proven their worth in multiple settings. Here's just a taster of what's on offer:
Get their attention by telling the Easter story using a piece of paper and a pair of scissors
Keep them interested by telling the story of Holy Week from the perspective of those involved at the time
Get all ages involved in a Good Friday word search
Explore the diversity of cross designs from around the world – and what they can tell us about the Christian faith.
Explain the Easter story using props of all kind – from coconut shells to passion flowers!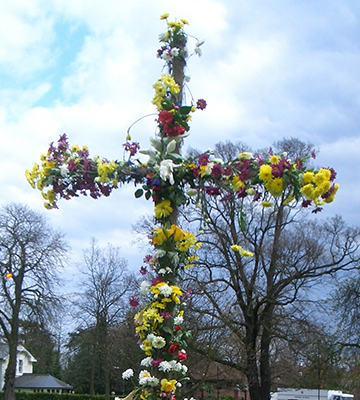 Help families go deeper at Easter
For families wanting to explore the Easter story in a way that's down-to-earth and relevant to real life, check out Parenting for Faith's free Journeying with Jesus resource. The last four of the weekly themes for Lent relate to Holy Week and Easter. Each one makes it easy for parents to explore the Easter story and relate it to children's and teens' own life and experiences.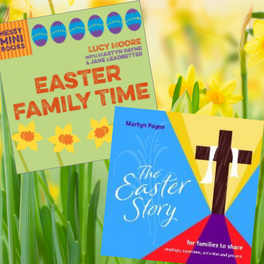 Put Christ at the centre with affordable Easter gifts
These two small books from BRF's Messy Church ministry are perfect for giving to families. Each costs only the price of a standard greetings card. Save even more through the special pack prices!
For families with little or no church background: Easter Family Time is for families in the community, for example, parents attending church toddler groups.
To encourage Christian families to get together and explore the meaning of Easter, The Easter Story is the one to go for.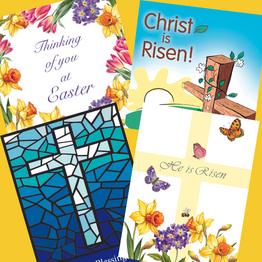 Send a card and share Easter blessings
Share Easter hope with these attractive cards! Our newly extended range of designs means you can send a card that reflects your personality and your faith. At £2.95 for a pack of six, they're not only great value – they also help raise much-needed funds to support our ministries – 'enabling all ages to grow in faith'.
Find out other ways to support our work.