Enabling primary school teachers and pupils to explore Christianity creatively, confidently and affordably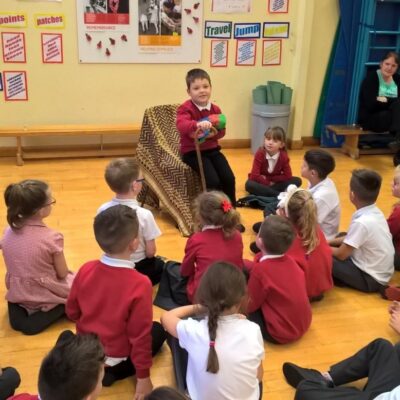 Why is BRF involved in primary RE?
Barnabas in Schools is BRF's professional educational service supporting Religious Education in primary schools. Many schools struggle to meet the needs of today's RE curriculum – covering a wide range of beliefs – with fewer teachers claiming much specialist knowledge, and limited resources. Headteachers are looking for help to meet their statutory obligations around Christianity and also collective worship. Distinct from our faith-based work, BRF's professional Barnabas in Schools team helps schools explore Christianity in all these contexts – creatively and confidently, combining professional expertise with Christian commitment.

Affordable, expert, creative help
For twenty years, Barnabas in Schools has been a much-valued educational provider helping schools offer high quality, curriculum-based Christianity through:
free ideas and session plans to use in the classroom
free and inexpensive resources for reference and classroom use
interactive pupil RE workshops based on a wide range of themes
teacher training to increase staff skills, knowledge and confidence
We can also help pupils explore school values through the Barnabas in Schools themes. Thanks to voluntary donations we're able to keep our services low-priced and our resources either at 'pocket-money level' or free.
Interactive Barnabas RE Days
Our RE theme days offer a full day's visit during which a series of interactive pupil workshops based on a chosen them are delivered by one of our professional team within year groups. Drama, storytelling and roleplay are used to unpack ideas within Bible stories and explore Christian traditions.
The primary purpose of religious education must be to enable young people to make sense of themselves and the world in which they live, and from these seeds will grow communities equipped to live well together.

Nigel Genders, Church of England chief education officer
How our primary RE team works
BRF's Barnabas in Schools team combines:
in-depth understanding of the Bible and Christianity
significant professional teaching experience and expertise
considerable creative skills to bring the subject to life, and to equip teachers to do the same.
Barnabas in Schools comprises two staff members who work closely with a regionally-based freelance team operating throughout England.
Our in-house staff also work at both regional and national levels to help shape the future of primary RE.
The work of our team supports SEAL aims and objectives and the provision of RE, PSE and SMSC in primary schools.
As a member of the Religious Education Council of England and Wales, we support and adhere strictly to its Practice Code for Teachers of Religious Education.
How the Barnabas in Schools programme is funded
Although we charge for Barnabas RE Days and INSET sessions, we keep them as affordable as possible, recognising that RE budgets are tiny in many schools. The generous giving of donors who share our vision allows us to work with hundreds of schools each year and enables us to provide and develop free resources on our website.
Each year, it costs BRF around £220,000 to sustain and develop this programme. We are so thankful to those who have generously given to support this work.
Can you, or your church, support us with a one-off or regular donation?
I walked into a school and I heard some boys as I arrived saying: 'It's an RE day, that's going to be so boring.' But within five minutes, you could see they were enjoying it.

At the end of the day, I can remember one of those lads came up to me and said, 'That was a wicked day.'

John Hardwick
What we're working on
In 2019 we celebrated 20 years of Barnabas in Schools. We're privileged to be able to explore Christian values, stories and themes with schools and see something of the difference it makes – to individual pupils, staff and the school culture as a whole.
We're working on:
Exploring what video-based INSET sessions might look like for schools. Our hope is that an online INSET would mean many more schools could access this content on demand, wherever they are based
Improving our schools team training to ensure we maintain the high quality of our work and get the widest range of creative input into new themes
Expanding what we offer through social media and the website to help more teachers discover our resources