When I first started volunteering it was from a viewpoint of helping and caring for others but over time, it has become much more holistic than that. The Messy Church community is like a family to me, and getting to know individuals and hearing about their everyday successes and struggles is all part of supporting and encouraging each other. There is such a wealth of experience and creativity among the leaders that I feel energised and inspired when I'm with them, whether online or face-to-face. It's also where we can all learn to grow and flourish together in a safe place.
I feel privileged to be able to pray for and encourage other leaders with their struggles and to celebrate with them when they feel joyous. In return, I feel upheld, valued and supported within my own Messy work. There is a true sense of 'care' within this community.
The increased demands on teams for both online and in-person content can sometimes fall to a few. My prayer is that these individuals take time to rest and rejuvenate and find a way forward that is manageable and does not feel like a burden.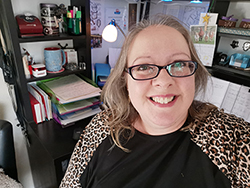 Vickie Heydon-Matterface leads a Messy Church in Walsall and volunteers for BRF on two Messy Church teams – the Advocates and the Pool of Wisdom.