My journey as a BRF volunteer began when I attended the first Anna Chaplaincy network gathering in 2015. I greatly valued that fellowship of like-minded people who were all involved in similar ministry, and I felt immediately that this was something I wanted to remain a part of. I've attended every annual network gathering since, gaining insights and inspiration from others, as well as having the opportunity to share from my own experiences of 13 years as a church pastor for older people. It has been encouraging to both give and receive at these events.
In 2019, I was invited to be part of the national Anna Chaplaincy working group, considering ways of taking the ministry forward in the light of its flourishing rate of growth and development. As we discuss ideas and plan new structures for training and growth, it is a privilege to be giving time to such a professionally run set-up. It is also exciting to be part of something that clearly has God's blessing on it as the movement spreads throughout the country, meeting needs 'for such a time as this'.
My volunteering with BRF is a rewarding and inspiring privilege! I pray for the fulfilment of the vision that Anna Chaplaincy would soon become a household name.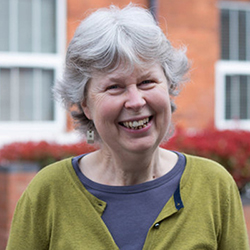 Catriona Foster is pastor for older people at St John's Church, Harborne