Glen Graham is a Baptist minister based in Devon and will soon mark his 24th year in full-time ministry. He is also the first of BRF's volunteer networkers as well as a local church champion. Blind from birth, he was sent away to a specialist boarding school from a young age, first in Liverpool and then the Royal School for the Blind in Edinburgh – 'an incredibly positive school.' he says.
Having come to faith in the Church of Scotland, Glen went to university in Swansea, where he studied politics and history and got involved in a local Baptist church.
'I felt there was something about the baptism thing,' he says, 'but I was going to candidate for the Church of Scotland ministry. Then I went to my home minister in Edinburgh and said "I'm a bit confused between my sense of loyalty to my home church and the church I'm serving down in Swansea." I told him I was interested in candidating for Church of Scotland ministry and he said, "Whatever you do, don't do that! You'll be much better off with the Baptists – I'll write a letter recommending you."'
Which is how Glen came to train as a Baptist minister at Bristol Baptist College. 'But I'm very ecumenically open,' he says, 'so if I was pushed, in terms of spirituality, I'd say I probably have more in common with Anglicanism.'
After leaving ministerial training college, Glen went back to Cumbria, where his family had been based before the move to Edinburgh. He worked with some small chapels and helped with rural evangelism, before moving to Devon in 2002.
He and his wife Rowan have been married for 19 years and he celebrates two anniversaries on the same day: his wedding anniversary and the day, 11 years ago, when he became a full member of the Northumbria Community. The reasons behind that decision are inextricably linked with his decision to get involved with BRF, as he explains:
'In 2008, I had a spiritual/theological crisis I suppose you'd say. I had a sabbatical and, basically, I came to realise that I was going through the motions: I knew a lot about God but, experientially, everything was sort of dry and lacking. I thought, I need a spiritual director. So I approached someone called Peter Webb and said, "I don't know why but you have got to be my spiritual director."
'For the next six or seven years he was my spiritual director. He was a member of the Northumbria Community and he introduced me to their daily office. He also introduced me to BRF's New Daylight Bible reading notes, which are available in Braille, and I've been using New Daylight regularly as part of my daily practice ever since.
'I also discovered that BRF was one of the few organisations that have their books Brailled by the Torch Trust. So I also started reading BRF authors and then started befriending some of them in different ways: David Cole, for example, who writes about the Celtic Christian tradition. Through a learning cohort I'm involved in, I've also come to know George Lings. A group of us is going through his book Seven Sacred Spaces with George, as a learning experience.
'As I've been treated so well by BRF I thought, Here's an organisation that is ecumenical, theologically open and has a lot of good reflective folks involved in it, and its biblical material is very engaging. It became quite apparent that BRF is a ministry that has blessed me greatly as a blind person and as a church leader, and I wanted to serve this organisation somehow.'
Last year Glen became a local church champion. and now he's the first volunteer in the new role of 'networker'. Just this week he's committed himself further by becoming a Friend of BRF and enjoyed receiving his symbolic packet of seeds when he signed up.
Glen is in a perfect position to be a BRF networker, spreading the word about the organisation beyond the limits of his local church:
'I'm involved with lots of networks anyway,' he says. 'I either create them or get involved with them – certainly within the south-west, so I can pitch up at all their various events and promote the work of BRF. I'm involved with Churches for All, which is a national network of disability charities I'm currently chairing; again, that's a network in which to promote BRF and Anna Chaplaincy.'
In his role as spiritual director, he also leads retreats and takes BRF materials with him to introduce people to the BRF family.
'This is a family which I love, which I stand with, work with in a voluntary capacity and support,' he says. 'This is what they've done in my life; this is how they encouraged me, and this is how their literature saved my soul from dryness and ultimately helped save me from abandoning the ministry. The way BRF is and the way it operates, they really put both my feet back on solid ground and I want to give back to BRF.
'I think that with the wide range of BRF ministries, and the way in which in their centenary year there are all sorts of new things happening, it's an organisation that is changing with the needs of the day and it's just a privilege, at this stage of life, having let other things go, to have God drop something in my lap that I can really get behind. I'm passionate about everything BRF does, and I think I can communicate that and draw people to it. It's a ministry they might have heard of but not thought much about, and yet actually, we really are doing the whole-life discipleship thing, from cradle to grave, in an ecumenical, imaginative and creative way.'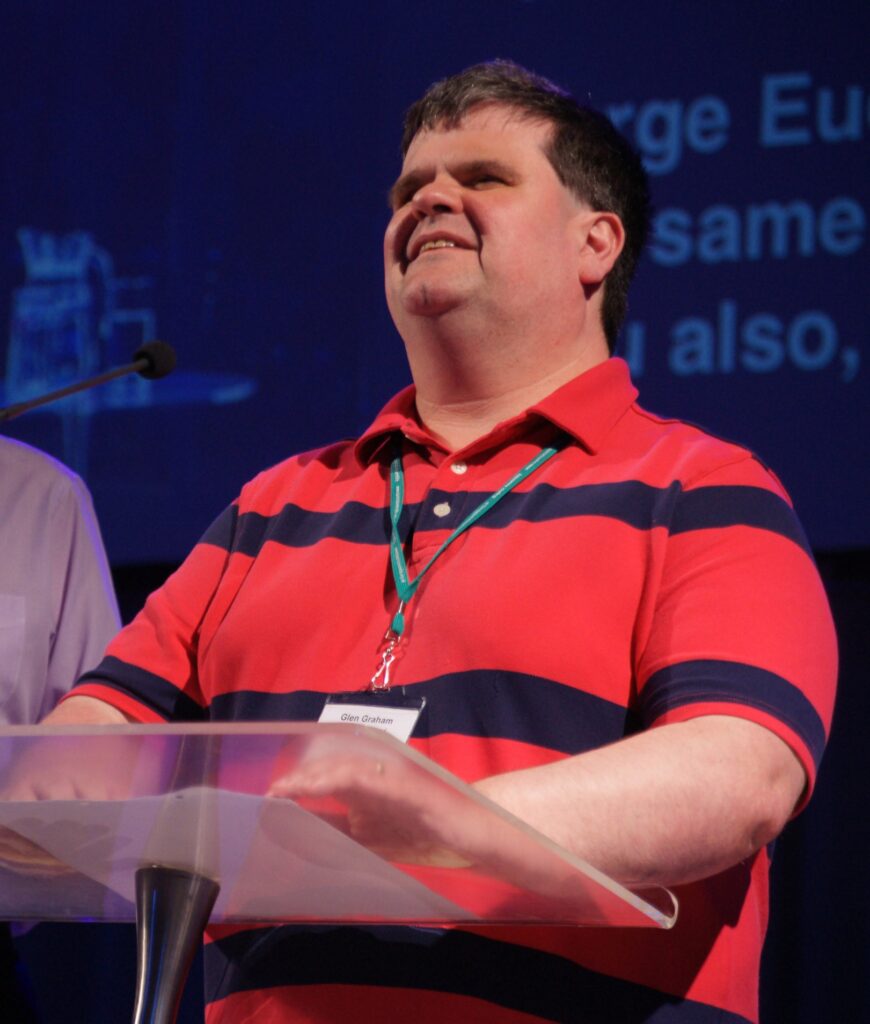 Glen Graham is a Baptist minister based in Devon and will soon mark his 24th year in full-time ministry. He is also the first of BRF's volunteer networkers as well as a local church champion.