Volunteering is a tradition in my family, as my mother was a Guide leader and my father helped out at the theatre with amateur dramatics. My sister and I both helped at Sunday school, and when I was 16 I started helping with a Guide company.
When I started teaching, I continued my involvement in Guiding, because I realised it would give me contact among like-minded people and because I believe strongly in the ethos of Guiding and its value to girls.
In due course I started visiting elderly people, many of whom I had known most of my life, but I thought of it more as being friendly than volunteering. I followed this through by visiting people when they went into care homes, initially as a friend, but this led to my becoming an Anna Chaplain.
I realised that the Anna Chaplaincy network is a community of people with a commitment to elderly people and to their value and importance, which I feel very strongly about. It connects very strongly with my experience, built up over the years, through visiting in various care homes, my work as a Reader and visiting people in the community.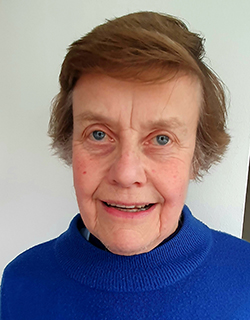 Eileen Tomlin is a volunteer Anna Chaplain.