Ever since I changed career 15 years ago – and went from being a primary school teacher to working with children and families in a local Baptist Church – BRF and Messy Church have been part of my journey.
I first heard Lucy Moore speak about her new fresh expression of church at a conference and thought, 'We could do that!' And we did. Messy Church became a part of our church's mission to the local families that we met through schools and toddler groups. When Lucy later asked me to volunteer as a regional coordinator and help spread the vision of Messy Church throughout Greater London, I was delighted.
I have loved being able to share the story, values and vision of Messy Church with different churches in different locations, and then to journey with the leaders who have become close friends.
I am now part of the Storykeepers Team in Messy Church, meeting with others to support and encourage Lucy and to pray with her as this Messy adventure just keeps on growing.
My prayer is that as we come out of the restrictions of the pandemic, we follow the leading of the Spirit as he shows us what our Messy Churches will become. It may be very different from what we have known, but it will be very exciting!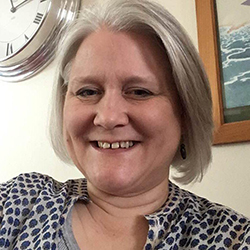 Charis is a families and children's worker at a Baptist Church in Worcester Park,  London. She has been a part of the Messy Church movement since 2007.